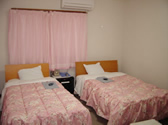 TWIN ROOM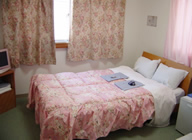 SINGLE ROOM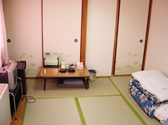 JAPANESE STYLE ROOM


MAIN BUILDING BUDGET CITY VIEW TWIN ROOM LOWER FLOOR
(WITH FULL BATHROOM)
Meals : Breakfast: None / Dinner: None
1Person:JPY 4,500/person
2Person:JPY 3,900/person
MAIN BUILDING BUDGET CITY VIEW JAPANESE STYLE ROOM LOWER FLOOR
(SHARED BATHROOM)
Meals : Breakfast: None Dinner: NoneDinner: None
2 Person:JPY 5,100/person
3Person:JPY 4,000/person
4Person:JPY 3,500/person
More than 5 Persons:JPY 3,100/person
MAIN BUILDING BUDGET CITY VIEW JAPANESE STYLE ROOM LOWER FLOOR
(SHARED BATHROOM)
Meals : Breakfast: None Dinner: None
1Person:JPY 4,000/person
2Person:JPY 3,400/person
3 Person:JPY 3,000/person
MAIN BUILDING BUDGET CITY VIEW JAPANESE STYLE ROOM LOWER FLOOR
(SHARED BATHROOM/SMOKING)
Meals : Breakfast: None Dinner: None
1Person:JPY 3,800/person
2Person:JPY 3,200/person
*Displayed rates and meal conditions should be used only as a guide in the previous 7 days from today.
Rate/ Breakfast: 600 Dinner: 1000
▽ Click here ▽



・Public Large Bath
・Vending Machine
・Wake-Up Call
・Express Delivery

・TV
・Telephone
・Fax
・Refrigerator
・Hair Dryer (Lending)
・Soap
・Conditioning Shampoo
・Shampoo
・Rinse
・Toothbrush
・Razor
・Comb
・Towel
・Bath Towel
・Bathrobe (Japanese Style)
・Slippers Pot (Lending)

・Early Check-In Late
・Check-Out



THE CLOSING TIME IS 24:00.

The cancellation fee is based on the date(Japan Standard Time) when the changes and cancellation are accepted.
100% of total amount

100% of total amount

50% of total amount



Loading...Please wait...

With your back against the west exit of JR Wakayama stn. and Kintetsu department store on your right, walk forward and turn right from Kentucky Fried Chicken restaurant.
Turn left from third traffic light Yoshida crossing and if you walk across Hatayashiki crossing hotel is on the right ( 13 min walk )

27, Hatayashiki-hashinocho, Wakayama city, Wakayama 640-8389, Japan

+81-73-428-1169

+81-73-428-1163